Tidal Marine Launches CB 7300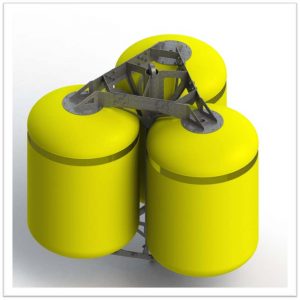 https://tidalmarine.ca/buoys/aquaculture/cb-7300-standard/
This 7,800 L (7,300 kg net buoyancy) buoy was originally designed for an aquaculture farm in the unforgiving waters of Alaska. This new design is comprised of 3 of Tidal's CB2500 hulls integrated with a central hot dipped galvanized steel frame. Running through the center of each CB2500 hull are 2.5″ Schedule 40 galvanized pipes, which are directly connected to the central frame. The frame features a 6″ SCH40 galvanized center pipe and engineered flanges & gussets. The result is minimal stress on the buoy hulls themselves. Each hull features EPS foam fused cores to ensure sustained buoyancy in the event of a breached hull. In addition, the hulls can be replaced as needed. This product was designed with shipping efficiency in mind. 5 fully assembled units can be loaded on a 53′ flat deck truck.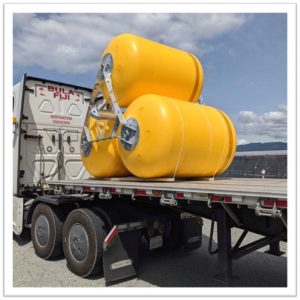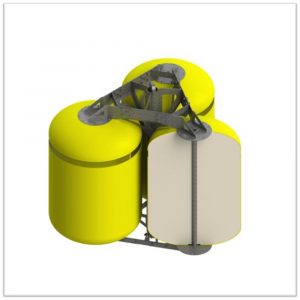 Our customers have found that the CB 7300 is a cost-effective substitute for equivalent displacement steel compensator buoys, especially considering today's shipping and steel costs. With 5 units per 53′ flatbed, and no Wide Load permit required, transporting these buoys is very efficient. The with a hot-dipped galvanized steel frame, and polyethylene yellow shells & EPS foam filling, the CB 7300 requires significantly less maintenance than a steel equivalent. In the event of damaged components or at the end of a component's useful life, buoy hulls and frames can be disassembled & replaced/reused.
WE ARE ALWAYS HAPPY TO ANSWER YOUR QUESTIONS ABOUT OUR PRODUCTS.
CALL US AT 604-674-4411 OR INFO@TIDALMARINE.CA TODAY!