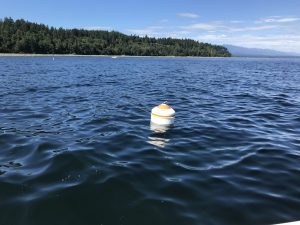 Boating season is here and our Transport Canada compliant private mooring buoys are flying off the shelf!! Demand for our mooring buoys is unprecedented this season. If you are thinking of installing or replacing a buoy this summer, get your order in as soon as possible before we sell out for the season!
Tidal mooring buoys are rotomolded, meaning the outer shell is moulded in one peice. In addition,  we EPS foam fill our buoys to ensure it will stay afloat if the shell is compromised. Our buoys come in 4 sizes. Our standard version features a centre rod with swivel eyes, and our Hawser version with a pipe running through the middle of the buoy. Included with our Hawser style is an Ultra High Molecular Weight (UHMW) wear collar to prevent the top of your buoy from abrasion. Our buoys are Transport Canada compliant 'out of the box' with the top 3rd above the water line in orange, PRIV on two sides, and a blank name, address, and phone number with a clear overlaminate sticker to protect your info from the marine elements. Our MB61 and MB76 buoys come standard with a 2″ reflective band and we can add a reflective band to our MB45 upon request.
We work with retailers and distributors across North America – feel free to give us a shout if you would like us to connect you with someone in your area! Need installation or inspection? We can arrange that too!
If you are interested in selling our buoys, we would love to chat!