Tidal Marine has a long history of working with our customers to design innovative solutions that improve the performance & life cycle costs of our products. The CB4000-M is another example of our commitment to developing a made in Canada solution in response to our customer's evolving requirements.
Installations are increasingly moving farther offshore to higher energy environments. The CB4000-M has been developed in response to our customer's desire for higher strength, more robust buoys that are better suited to higher energy sites. This internal frame has over two times the minimum break load of our previous Standard version CB's. In addition, the buoy is built in four watertight, modular sections as opposed to one piece. This feature enables full inspection of the internal hardware, replacement of damaged sections, as well as increased shipping efficiencies.
High Strength Frame for High Energy Installations
We designed the CB4000-M to withstand harsh offshore and high current mooring installations. When we performed a straight pull test, the frame maxed out the test bed at 68 tonnes/149,914 pounds with no signs of damage! The lifting and mooring eyes can accommodate 1.25″ shackles and are continuously welded to the oversized load plates for maximum load dispersion. In addition, gussets have been added to further improve the overall structural strength of the buoy.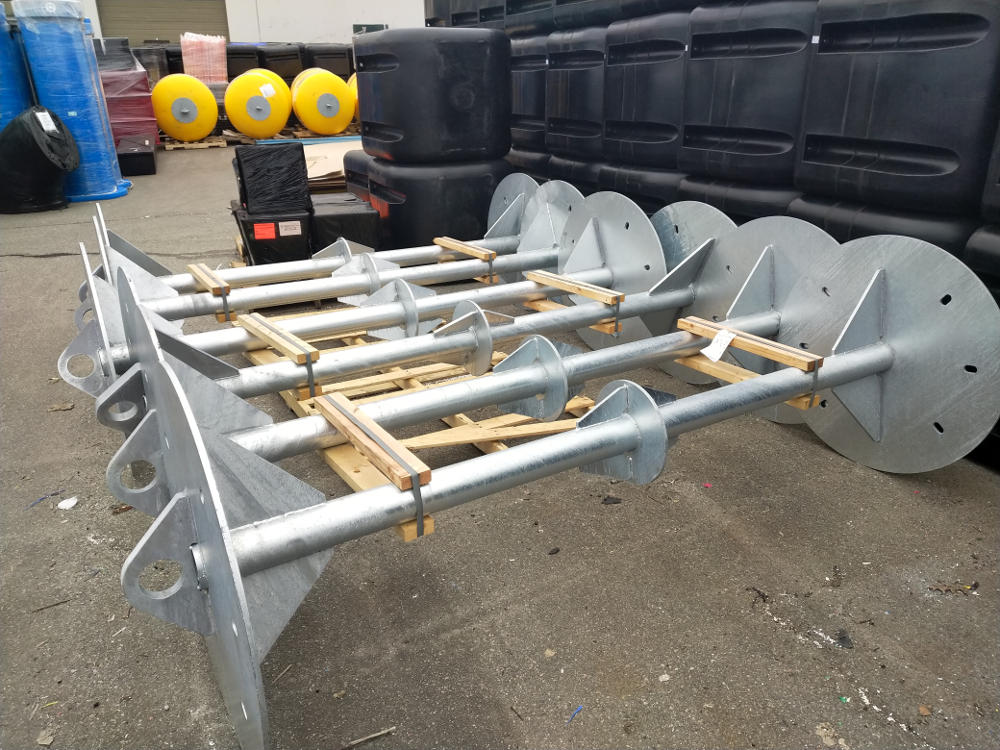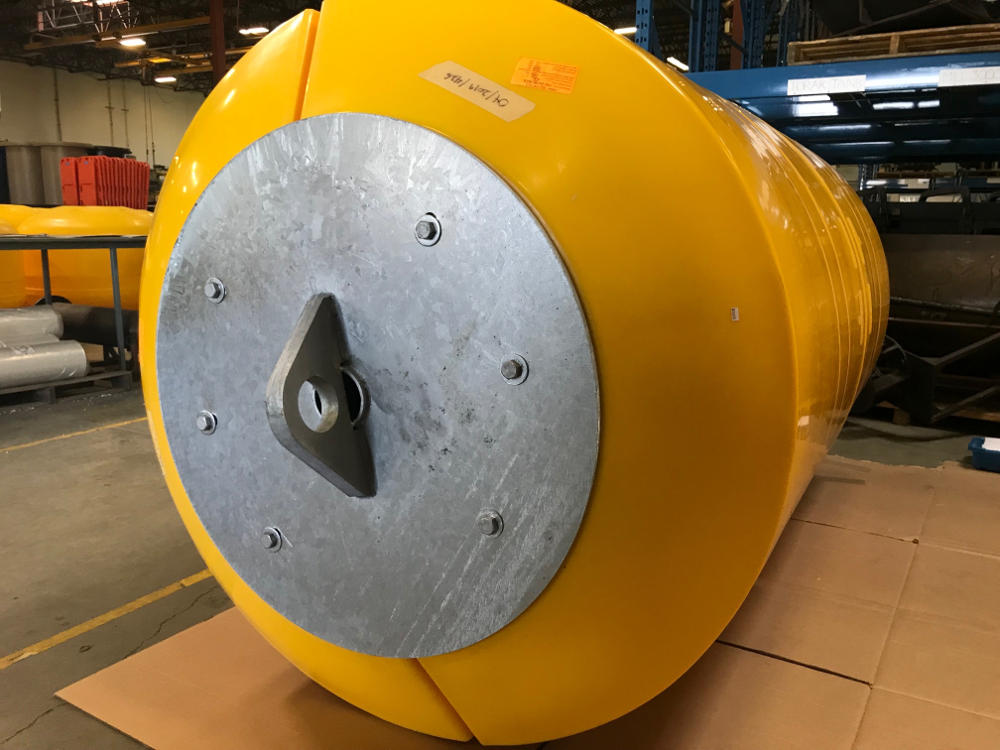 Custom Designed Molded Inserts
Our customers swear by our load plate and buoy interface design. We listened to industry feedback that the internals of the competition's buoys were being ripped straight through their shells in rough conditions. Our load plates are bolted on to the buoy shells using custom made inserts specifically designed to ensure they are securely molded in to the buoy shell.
Custom Stainless Steel insert

Insert shown before bolt is installed
Modular Frame and Hull Sections
The CB4000-M was designed with ease of maintenance, inspection, and life cycle cost in mind. With hull sections that bolt on to the frame as opposed to going straight through the buoy, the hull sections can easily be removed to inspect the entire frame. Due to the bolt-on modular design, each hull section is completely sealed and watertight. EPS fused foam inside each hull provides an extra layer of safety in the even a hull is compromised. In addition, damaged sections can easily be removed and replaced on site eliminating the need to detach and reattach moorings to install a new buoy. By replacing hull sections and frames as opposed to entire buoys, time and resources are saved and safety is improved.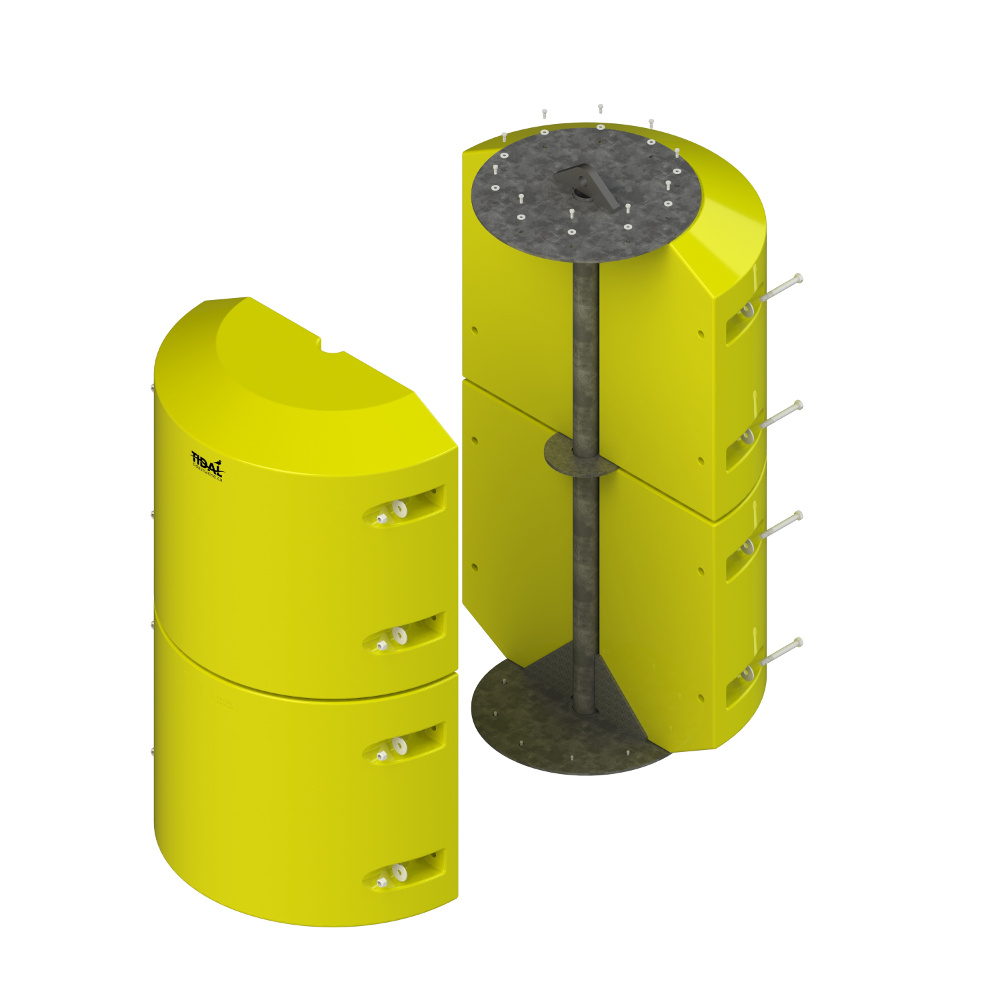 CONTACT US TODAY TO LEARN MORE ABOUT THE NEW CB4000-M! INFO@TIDALMARINE.CA | 604-674-4411 | TOLL FREE: 1-888-689-9324